Let's go golfing !!
June 25, 2022 @ 9am sharp
Hosted by Southern Oregon Dog on the Roof
Rolling Start at 9am at Quail Point  Golf Course.
1200 Mira Mar Av.   Medford, OR. 97504
Thirty Dollar ( $30 ) Entry Fee
All are welcome, but reservations are required as there is a limited number of participants allowed for this tournament……..so sign up early
Prizes , food, and fellowship to follow.
Any Qs? Call Jeff M @ 898-443-4967  OR  NY John @ 541-613-6777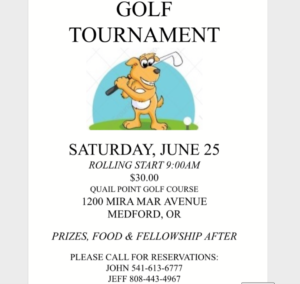 +++++++++++++++
WHAT: Golf Fiasco
DATE: June 25th, 2022
TIME: 9:00AM
LOCATION:Quail Point Golf Course
+++++++++++++++
To submit an announcement for your Local A.A Group  –> GO HERE
To go back to the A.A. Event Calendar –> GO HERE
{A.A. EVENT} "Dog On The Roof Golf Tournament " – 06/25/2022